The hottest country superstar wedding in May this year was held near San Antonio, Texas where Blake Shelton married his country girl of six years. A rustic, nostalgic, and glamorous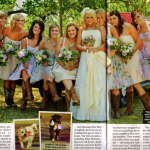 wedding was pulled off by one of Country Music's most beloved couple.
Guest stars included Joe Nichols, Martina McBride, Kelly Clarkson, & Lady Antebellum just to name a few that flocked from Nashville to attend the festivities in Texas.., Magical was the word describing the vintage atmosphere where Miranda kicked up her custom, crystal-studded boots with the rest of the celebratory crowd. The bridal party wore Old Gringo Boots which were a gift from the bride & groom.
Love was in the air at the end of the ceremony…picking her up and holding her they made a spectacle of themselves during the kiss. Earlier  Blake sang to his bride" Let's Grow Old Together" .  You could tell by looking at the crowd they were thinking…YES!  Now it was time for the crowd to kick up their heels as the band played a two hour set.